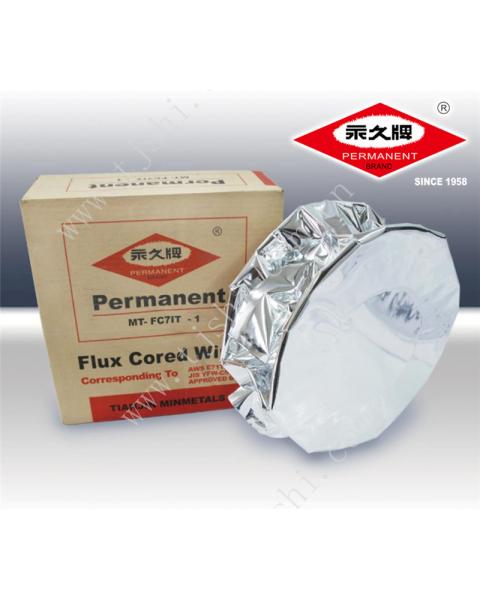 Flux cored welding wire
MT-FC71T-1 (AWS E71T-1)
Description:
MT-FC71T-1 is of oxide of titanium type slag kind Co2 flux cored wires for all positions welding inclusive of vertical down. The arc is stable with little spatter. The welds have smooth appearance. The slag is easy to remove and smoke little. It has excellent welding technological performances.
Applications:
For welding low carbon steel and 50kg/mm2 class high tensile steel. It is widely used for
welding structures of ships, bridges, buildings, stored tanks and steel beams etc.
Note on usage:
1.Strictly control the content of impurities in Co2, guarantee the purity of Co2.
2.The flow of Co2 is normally 20-25l/min. when welding.
3.The outer length of wire should be controlled within 15-25mm.
Typical Chemical Composition of Weld Metal (%)
| | | | | | |
| --- | --- | --- | --- | --- | --- |
| | C | Mn | Si | S | P |
| AWS STANDARD | ≤0.18 | ≤1.75 | ≤0.90 | ≤0.03 | ≤0.03 |
| TYPICAL | 0.07 | 1.25 | 0.36 | 0.010 | 0.017 |
Typical Mechanical Properties of Weld Metal



TENSILE

STRENGTH

(MPa)

YIELD

STRESS

(MPa)

ELONGATION

(%)

CHARPY V

IMPACT VALUE

(-180C)

(J)

AWS STANDARD

≥480

≥400

≥22

≥27

TYPICAL

570

490

28

90
Packing: IN CARTONS OF 15KGS NET EACH
APPROVAL: ABS